Snow and Ice Removal
For over 30 years we have taken great pride in serving our customers with the service they deserve. We have the capability to plow, salt, sand, and remove and relocate any amount of snow to get the job done right. Our top priority is to make sure all of your parking spots are accessible and safe as well as your handicap parking spots, entrances and exits, loading docks and dumpsters. We want you to feel comfortable that we can get the job done for you in a timely fashion. All of our estimates are free and at anytime we would be glad to sit down and look at your project and give you a price that will keep a smile on your face.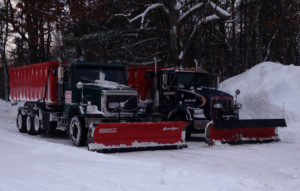 Some of our clients include McDonald's restaurants, Friendly restaurants, Sam's Club, Portsmouth Hospital, The Loop. As well as Autovalue, Speedy Lube, The State of Massachusetts DOT and the State of New Hampshire DOT. Our equipment includes but not limited to; pick up trucks, Skid Steers, 10-wheelers, front end loaders, Sanders and Salters and Pushers up to 16 feet wide!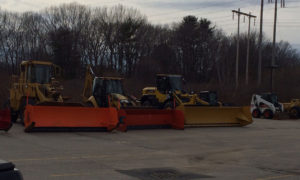 You can put your mind at ease in knowing that if we are on the job for your property, it will be done the right way, the professional way. The way YOU want it done! We promise to keep your business, company or commercial property open 24/7 if needed!